Some nights, the comedy gods give you a gift. A perfect mix of the amazing, the beautiful and the fun that remind you why we do this and why we've chosen to surround ourselves with the people we do. Friday February 27, 2015 was one of those nights. Krystyna Hutchinson cites it as her second favorite and it's definitely in my Top Ten.
The night started off very chill, I swung by Eastville Comedy Club for the first time ever and met up with James Mattern and Eliot Chang and figured maybe I'd just head over to the 8 pm show I had planned and call it a night.
This Is Not a Sex Dungeon at Stairs Bar
Ryan Hoffman and Nick Ruggia, collectively known as the Temple Horses sketch crew, were putting on a live show at Stairs bar that featured a lot of the folks they work with regularly on sketches, who are coincidentally very talented stand-ups who I am very fond of. Andy Sandford has been one of my favorites for years, I think my love for Krystyna is well known by now, and I had the chance to see a number of great folks I don't see often (or never had before) - Matt Lipton, Alison Klemp, Samantha Bednarz, Nick and Ryan. It was a fantastic show in a nice little downstairs room that was packed with folks ready to have a good time.
But all that pales next to watching Greer Barnes go up. "You're gonna write about that, right????" Krystyna asked me as we hopped a cab afterward. And I'm still struggling a little with how to do that. See, I spend an inordinate amount of time with Greer, I know the inner workings of his brain and I've been goading him for weeks to start taking more risks on stage, to stop feeling like he has to always bat 1.000 (which he does every night at the Cellar) and trust that he can carry a set through untested material just fine. So, when he took the opportunity of the small room with an on board crowd to do just that, my experience of the set was colored by all that knowledge and the fact that he'd done something similar on my show Tuesday at New York Comedy Club.
But I'll try to tell you what happened from the more objective view of the crowd and the other comedians. Greer came up firing on all cylinders with his typical confidence and charm that immediately puts the audience at ease. He started out just riffing, led into a couple of regular jokes he has, and then the set just... opened up. He tried out new stuff that was everywhere from "I just thought of this" to half baked to almost done. He'd pause periodically and break the fourth wall with meta comments about what he was doing, advice to the comedians in the room, and a treatise on why a wireless mic is for singers, not comedians. He even put the mic down at one point and performed a capella, punctuating it with the note, "You gotta be able to project, even when you don't have a mic."
And he made all of it work. Even the commentary had laugh lines dropped in at strategic intervals and the crowd was with him, whether they were laughing at him suddenly switching to his french guy or white girl accent to make a serious point, or listening in rapt attention as he turned to face the side of the stage to illustrate what he was saying about performance. And for the folks in the room that only knew him as Greer from the sketches or Greer from the Cellar or who didn't even know him, there was that tension of "How much of this is real and how much is performance? Is this guy about to have a breakdown?" that reminded me a lot of watching Brody Stevens for the first few times.
The whole thing was fucking beautiful. It felt real and visceral and spontaneous and alive and dangerous and always on the brink of going off the rails, the way you want your comedy to be in a dark basement in the East Village.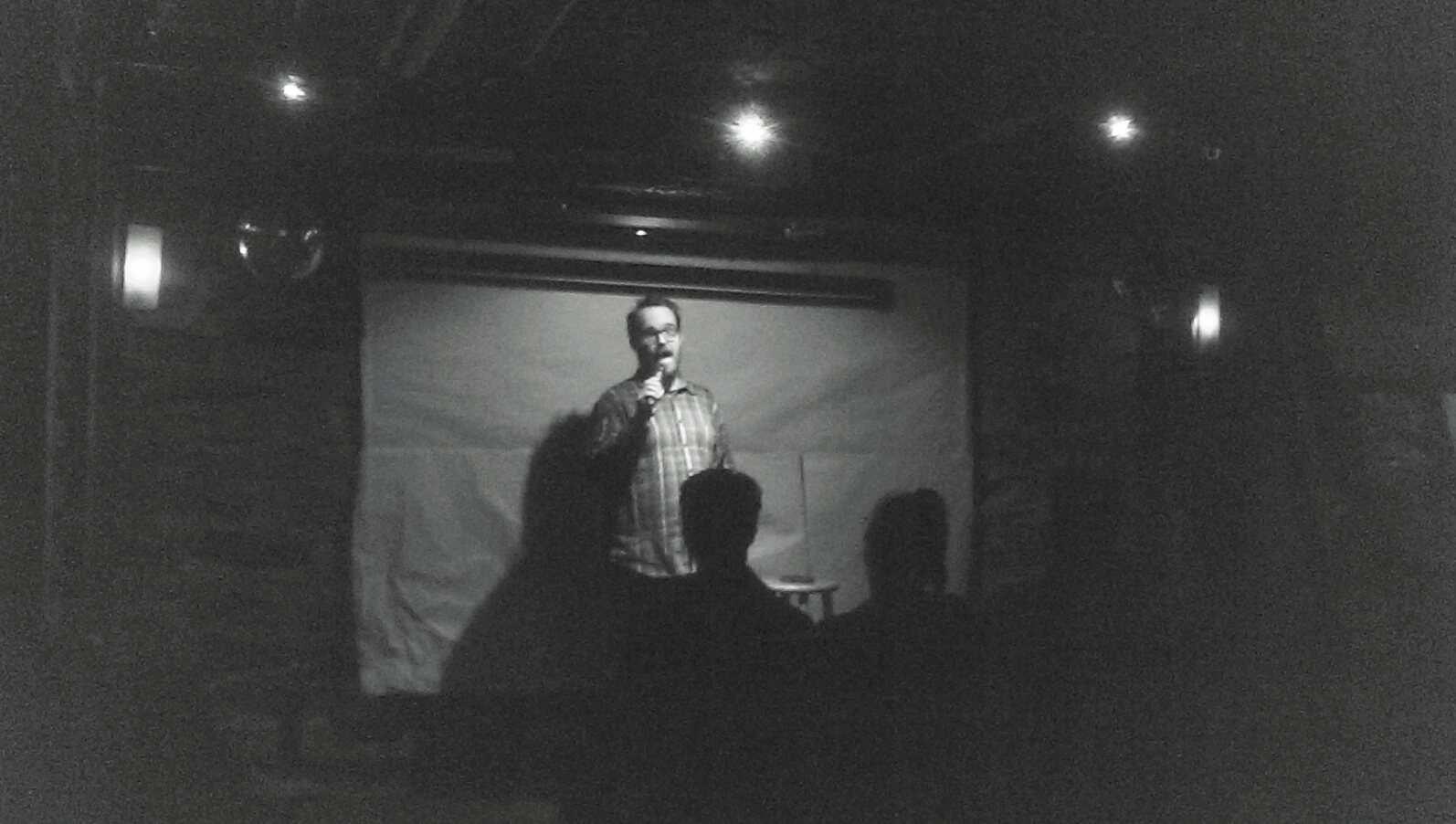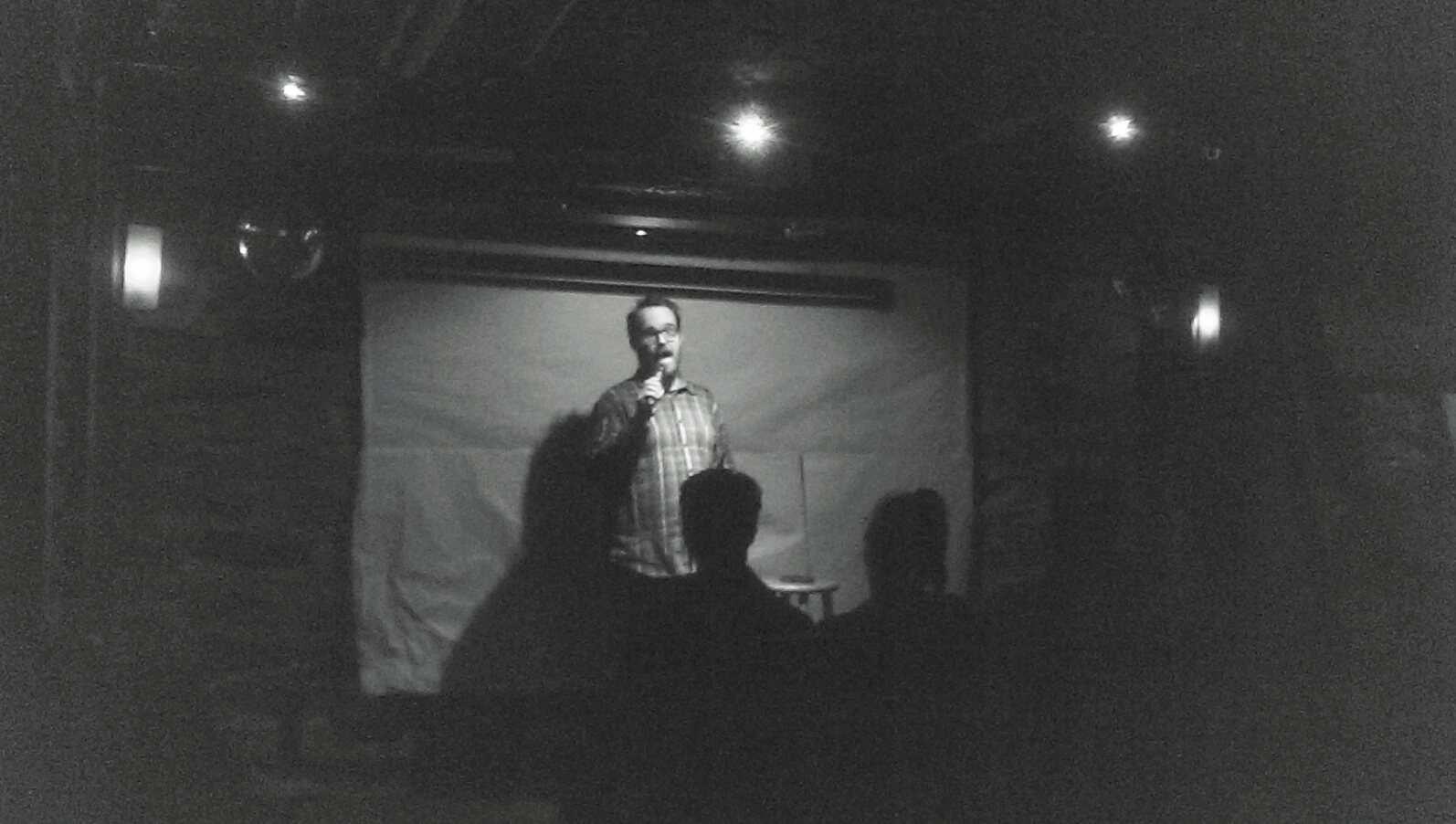 And frankly, that would have been a tremendous night on its own, but it was just beginning...
Nacho Bitches at New York Comedy Club
Krystyna, Alison and I headed up to NYCC to catch the end of Nacho Bitches, a monthly show from Blair Socci and Corinne Fisher. We got there after the purportedly rowdy crowd had settled down and were able to see great sets from Blair, Sam Morril and Ryan Reiss. I've written a whole bunch about how I love this show already, so let's just jump on to the part where I got a text message from Casey Balsham...
Ever since Fat Baby moved to Thursdays, the Friday midnight show at The Stand has been struggling with finding its identity. But just recently, Cipha Sounds has taken over the spot and dubbed it Double Stuf Comedy. It has been fantastic - packed houses with great lineups (and of course good music), the kind of show worth waiting a few more hours to hop into bed for.
And last night had the added bonus of BILL BURR dropping in! All the comics (including many of us who had run down from NYCC) crammed into the edges of the room to catch the set. And it was fantastic. I've had the pleasure of watching Burr more times than I can count at The Comedy Store, while he was working out his last special, and he NEVER disappoints. Burr is the kind of comedian who it feels like new bits just spring out of his head fully formed. It's nearly impossible to tell when he's doing new material (unless he makes a side comment about it in the middle) until you see it again later and notice the evolution and tightening. A workout set from Burr is better than probably 90% of other working comedians' most polished Saturday night 15. Yeah, it was incredible.