Okay, so Moontower Comedy is not one of those competition festivals, but that doesn't mean there aren't some big winners. I mean, me, for one, getting to see some amazing acts for the first time - Bridget Everett, Rory Albanese, Dan Naturman, W Kamau Bell, Jen Kober, Ian Karmel (I know it's crazy I haven't managed to see him before) - see may faves Andrew Santino, Brent Morin, Mike Lawrence, Ari Shaffir, Kurt Metzger, Godfrey, okay like everyone - and the chance to catch Colin Quinn's UNCONSTITUTIONAL. And I got to have comic's breakfast with Laurie Kilmartin and I didn't freak out and turn into a total fangirl.
But a few other people walked away with a huge W after great showings at the festival.
Kurt Metzger - One of the many stellar New York guys who is a killer onstage but without a ton of TV exposure, he crushed every set he had. But, most especially, he murdered a set at the end of a very long late night show featuring NYC comedians at New York, New York. It was late, the crowd had seen over 90 minutes of comedy, including Bridget Everett (more on that in a sec), and yet he got that crowd from the start and wowed them (and the other comedians) from start to finish. Coincidentally, Saturday night was Metzger's episode of Comedy Underground with Dave Attell.
Bridget Everett - HOLY SHIT. I usually think musical acts are cheating, unless they're different enough from just "I'm telling jokes with a guitar backing" (like Zach Sherwin). But Bridget just blew me away, I don't even want to really categorize it as comedy, but more like a funny cabaret act or a whole package entertainer like old-school Vaudeville or The Catskills. She absolutely commands the crowd and I just love that she's so ovariesy to pull off this character that is both overtly sexual and not in any way demure in a media culture that still only gives gals who look like Amy Schumer and Whitney Cummings a chance to say "dirty" things (and then turns around and shits all over them for it).
@midnight - While not directly involved in the festival, nearly ever fan I spoke to referenced the show when talking about comedians they had come to see at Moontower. I mean, I told you so.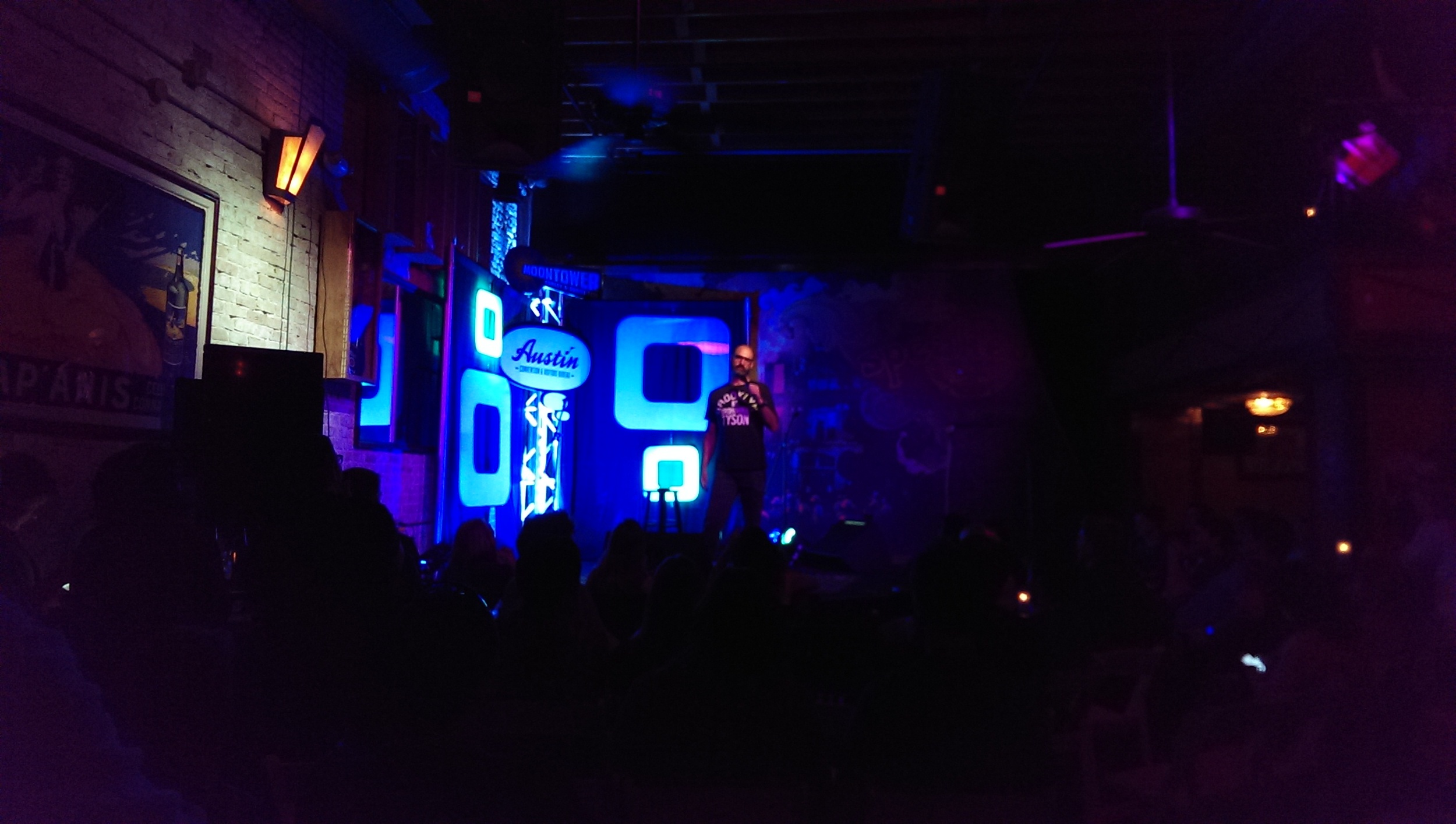 And the 2014 Rickshaw Ride Award for my favorite off-stage moment goes to... the racist chick at the bar who literally embodied one of W Kamau Bell's jokes. She was incredibly insistent on getting this random tall black guy with a lopsided afro's attention and kept yelling that he'd "stole my milkshake!" It wasn't until she mentioned the diner we'd all been at the night before that I figured it out and bust out laughing and said "Oh my god, you're so racist, he was not at the diner last night. That was Kamau and this is literally one of his jokes... and also he did not steal your milkshake." She got really angry and asked why I would call her "that word" which only made it funnier.